Profile: Best Buy

What does it feel like to
work at Best Buy?
It feels like going faster than the speed of light, like being two jumps ahead of the competition and widening the gap. It's exhilarating, challenging and rewarding. And most of all, it's fun!
You're in the know.
Best Buy keeps facts and figures coming so you can keep learning. Whether at meetings, teachouts or on our intranet, you hear about everything from new technology to hit movies. You not only feel a part of our Company, you feel a part of our industry.
No matter where you work at Best Buy, you learn, work, play and achieve. You set the pace, we help. You're going to like Best Buy. It's got a heart and spirit unlike any place you've ever worked.
There's an energy here that's contagious!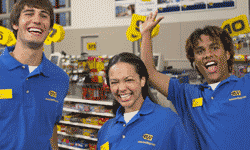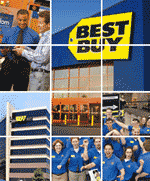 Best Buy Co, Inc. is North America's leading retailer of consumer electronics, personal computers and entertainment software and appliances, with 2004 sales totaling well over $24 billion.

We operate more than 750 stores in the U.S. and Canada under the Best Buy, Future Shop, Geek Squad and Magnolia Audio Video names.

But we're not satisfied with being the best. As a Fortune 100 growth company, we have ambitious plans for the future. We want to continue to grow, to innovate, to lead.
As part of the Total Rewards strategy at Best Buy, you are rewarded for your efforts with more than a paycheck. The "total reward" of working at Best Buy is a combination of four different categories which include pay, benefits, work environment and learning and development opportunities. These four reward categories work together to drive innovation and performance and to inspire employee contributions.

The benefit programs at Best Buy are designed to meet your unique needs and provide you with opportunities to build a solid financial future. Best Buy benefits coverage is available to employees, spouses, domestic partners and dependants. The full-time benefits offered are grouped together into three areas: Health and Wealth programs and Other Rewards. The Health benefits
include medical, dental, vision, life insurance, disability and health and dependent care spending account programs. The Wealth benefits include 401(k) and the Employee Stock Purchase Plan. Best Buy also offers an array of Other Rewards including time-off programs, employee discount, tuition assistance, vendor accommodation programs and more.
Best Buy knows multiculturalism and diversity are critical elements of our current and future success. In fact, the unique skills, talents and attributes of Best Buy's employees are the driving force behind our transformation into a truly customer-driven organization. This multicultural workforce fosters an inclusive, innovative work environment designed to unleash the power of all of our people as they have fun while being the best. Multiculturalism improves creativity, provides fresh perspectives and generates new ideas for better serving our customers' rapidly evolving needs. In a nutshell, Best Buy's commitment to multiculturalism provides our employees with a great place to work, and our customers with a great place to shop.
Locations
- Birmingham, AL 35201
- Mobile, AL 3660
- Tuscaloosa, AL 3540